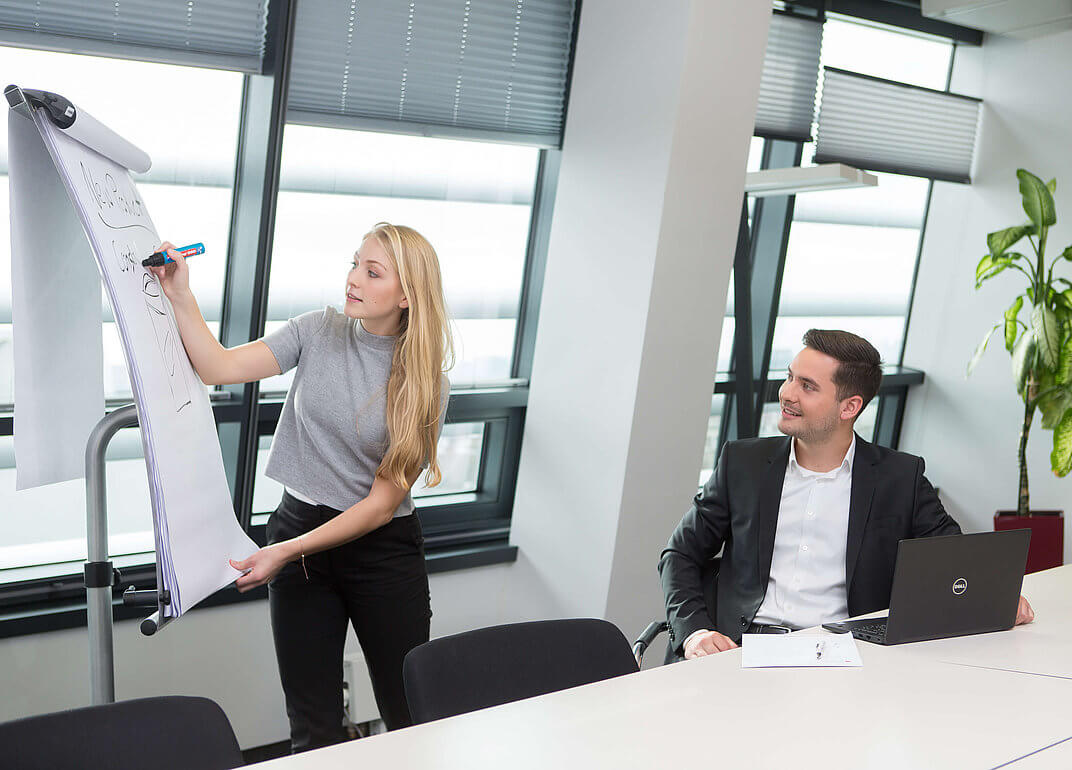 Career starters
If you are a Graduate, Student, or Apprentice who is looking for purposeful, inspiring and impactful practical experiences - you are at the right place!
Our "Career starters" page gives you the possibility to learn more about the programs and initiatives we at Constantia have in place for you.
Through apprenticeships, internships, and university collaborations we support young people in starting their career journeys.
Discover your passion with Constantia!
Apprenticeship programs
What programs do we offer?
Depending on the location you can find different Apprenticeship possibilities. Initiatives like the Dual Study Program at Constantia Pirk in Germany and the Apprenticeship Program at Constantia Teich in Austria, are among the great examples of the Programs we have in place.
What kind of apprenticeship positions do we have?
We offer a variety of positions, such as:
Dual studies for Bachelor of Engineering – Mechanical Engineering and Media Technologist Printing
Apprenticeship as:
- Electrical Engineer
- Industrial Mechanic
- Media Designer Digital and Print, specializing in Design and Technology
- Media Technologist Printing
Get a taste of our Apprenticeship Programs
– visit with us Constantia Pirk
"We challenge and support our trainees! We give them the opportunity to stay with us after their training. It's a great feeling when they know at the start of their apprenticeship that after its completion, their career with Constantia Pirk will continue."
Mr. Horst Eismann, Trainer Media Technology Print
One of our Trainers at the Apprenticeship Program at Constantia Pirk
Constantia Pirk, as well as our other companies, has a strong emphasis on providing high quality training for its apprentices.
Constantia Pirk has welcomed more than 900 apprentices so far. Many of them got to know the company during one of the open door events or company tours. Such initiatives are great for first orientation and information gathering.
Constantia cares about its Apprenticeship Programs and focuses on apprentices and their development in the company.
Short and long term internship opportunities
Are you a student who is looking for a short-term practical experience or a graduate who is searching for her/his first professional career steps?
Here at Constantia Flexibles, you can live your passion and make an impact.
As an international company, we are present in more than 18 countries which gives you the chance to look for your desired internship around the globe.
Theses and case study collaborations
At Constantia we know how important it is to support young people in their pursuit of education. For this reason we are proud to provide different opportunities for collaboration between our company and various educational institutions. Such a collaboration can provide you with the opportunity to contribute to various business challenges, develop business networks, gain further knowledge and practical experiences.
If you are passionate about your thesis or collaboration idea, then get in touch with us for more information.
Find our HR Contact details under FAQs!
We look forward to getting in touch with you!
Further programs for pupils
Constantia Flexibles strongly believes in providing opportunities for young talents coming from different international backgrounds. For us it is important to support such talents, because we believe in their potential. Therefore, we at Constantia work with various organizations around the world to offer learning opportunities for pupils.
A great example is the cooperation between the Headquarter of Constantia and the START Austria Initiative. The program works with young pupils with migration background and supports them in their pursuit of education and offers them scholarship opportunities. We are proud to be a partner of such a positive initiative and to contribute to the development of those young pupils.
What do we offer?
Internship possibilities in different business fields with
Learning and growth opportunities
Business and working life insights
Gaining practical experience in an international company
However, do not take only our word for it, instead check out the experiences of one of our pupils - Ahmad!
Internship insights
"The internship at Constantia Flexibles was a great experience for me. I was able to get to know different departments in the company and get a better overview of the goals of each department. This internship gave me the opportunity to try life in the world of work, to develop in different areas and to see what working in an international company looks like. Anyway, I can say that it is highly recommended to do an internship at Constantia Flexibles. Finally, I want to thank my godfather because without his support I would not be able to have these great experiences"
Ahmad Alhamwi
Back to main navigation