Group News
REGULA CIRC: A breakthrough in sustainable blister packaging
Meeting the highest sustainable packaging standards
At Constantia Flexibles, we are proud to unveil our latest pharmaceutical packaging solution, the coldform foil REGULA CIRC. This cutting-edge technology sets a new standard for sustainability in blister packaging, offering many benefits for both consumers and the planet. With circularity at its core, REGULA CIRC is designed to comply with future regulations and legislation, providing a total barrier solution that meets the highest sustainable packaging standards.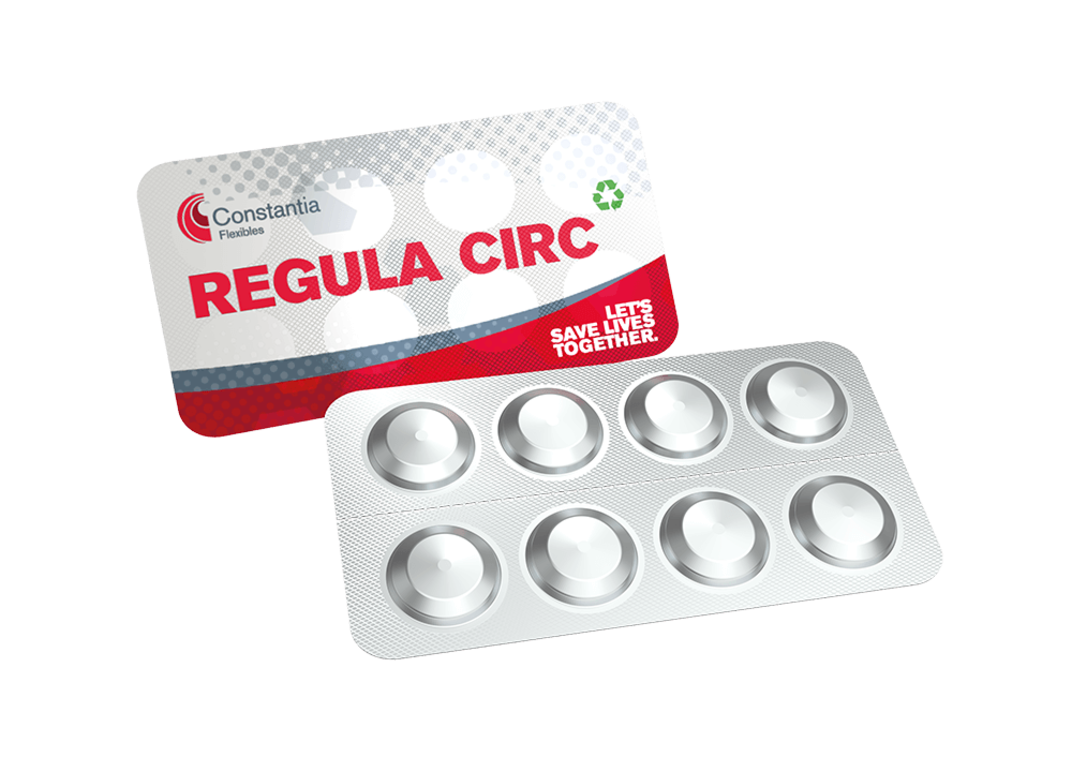 Optimized for the circular economy
REGULA CIRC embraces the principles of the circular economy by incorporating several key design elements. The packaging replaces traditional PVC with a polyethylene (PE) sealing layer, reducing plastic content while increasing the proportion of aluminum. This optimization results in a packaging solution that is not only more sustainable but also enhances material recovery during recycling processes.
Compliance with future regulations
One of the standout features of REGULA CIRC is its ability to meet and exceed future regulations and legislation for sustainable packaging. As governments and regulatory bodies place increasing importance on environmentally friendly packaging solutions, REGULA CIRC is ahead of the curve. By adopting this innovative blister packaging, pharmaceutical companies can ensure compliance with upcoming sustainability requirements, setting a positive example for the industry.
Five key advantages of REGULA CIRC
Ultimate protection
REGULA CIRC offers ultimate protection against moisture, oxygen, light, and gases, safeguarding the integrity and efficacy of pharmaceutical products. By maintaining optimal conditions, this packaging solution helps to extend the shelf life of medications and ensure their effectiveness throughout the supply chain.
Higher material recovery
By reducing plastic content and increasing aluminum content, REGULA CIRC enhances material recovery during the recycling process. This contributes to a more sustainable packaging lifecycle, reducing waste and minimizing the environmental impact of pharmaceutical packaging.
Improved sorting and recycling
The absence of PVC in REGULA CIRC simplifies the sorting process, facilitating efficient recycling. With improved sorting capabilities, the packaging can be more effectively directed towards appropriate recycling streams, ensuring valuable resources are recovered and reused.
Excellent delamination resistance
REGULA CIRC is designed to withstand delamination, ensuring that the packaging remains intact and secure throughout its lifecycle. This resistance to delamination ensures that the integrity of the medication is maintained, avoiding potential contamination risks.
No compromises on forming performance
While prioritizing sustainability, REGULA CIRC does not compromise on its forming performance. The packaging maintains its functionality and usability, providing pharmaceutical companies with a reliable solution that aligns with their packaging requirements.
On top, REGULA CIRC seamlessly integrates into existing pharmaceutical packaging processes, making it an easy and efficient choice for companies looking to adopt more sustainable solutions. Its compatibility with current production lines minimizes the need for additional investments or modifications, ensuring a smooth transition to eco-friendly blister packaging.
With REGULA CIRC, Constantia Flexibles introduces a game-changing innovation in pharmaceutical packaging REGULA CIRC sets a new standard for blister packaging solutions by combining sustainability, regulatory compliance, and optimal protection. With its focus on circularity and reduced environmental impact, this cutting-edge technology paves the way for a more sustainable future in the pharmaceutical industry. Join us in rethinking packaging and choose REGULA CIRC to make a positive impact on both your products and the planet.
Back to main navigation