Group News
Afripack, Nusser and Patz BRCGS awarded with outstanding results
AA+ for Nusser & Afripack, and AA for Patz
Our high-quality standards are audited regularly by the BRCGS Global Food Safety Standard to ensure product safety, integrity, legality, and, of course, quality. Although we have this certification at all our plants, the recently re-certified Constantia Nusser and Constantia Patz plants are particularly remarkable.
Highest-level for our plant in Germany
Where others break a sweat, the colleagues at Constantia Nusser are fabulous: an unannounced audit. But as the ranking showed, they have everything under control in an exemplary manner. The company was awarded the level AA+, reflecting excellent teamwork. Only through them, the high standards in the plant can be continuously ensured. And more than that, with the highest BRCGS level, which can only be achieved through an unannounced audit, they show their tremendous dedication and commitment to packaging.
Close on its heels, the team from Austria
Also, recently, the products and processes at our Pharma plant Constantia Patz were put under the microscope. And here, too, every detail was accurate, so we can assure our customers that we are committed to the highest quality requirements in all facets of the business. Re-certified with an AA level is an outstanding result that can only be achieved through great teamwork. The aim and journey for the next level (AA+) will continue in 2023 when the first unannounced BRCGS audit takes place at Constantia Patz.
Update of the article on January 27th, 2023
Pinetown also reaches for the highest rating AA+
The team in our Constantia Afripack Pinetown plant also went the extra mile: In January 2023, they passed the 2.5-day audit with a phenomenal AA+ rating. The unannounced audit was led by a team who did an exceptional job preparing the site audit. From the production team to engineering, quality management, contract management, supplier management, and behind-the-scenes work ensuring all documentation, it is clearly an achievement that needs the whole team involved. Our employees' and contractors' contribution to setting the highest standard in food safety is highly appreciated. Thank you for being part of our continuous improvement journey.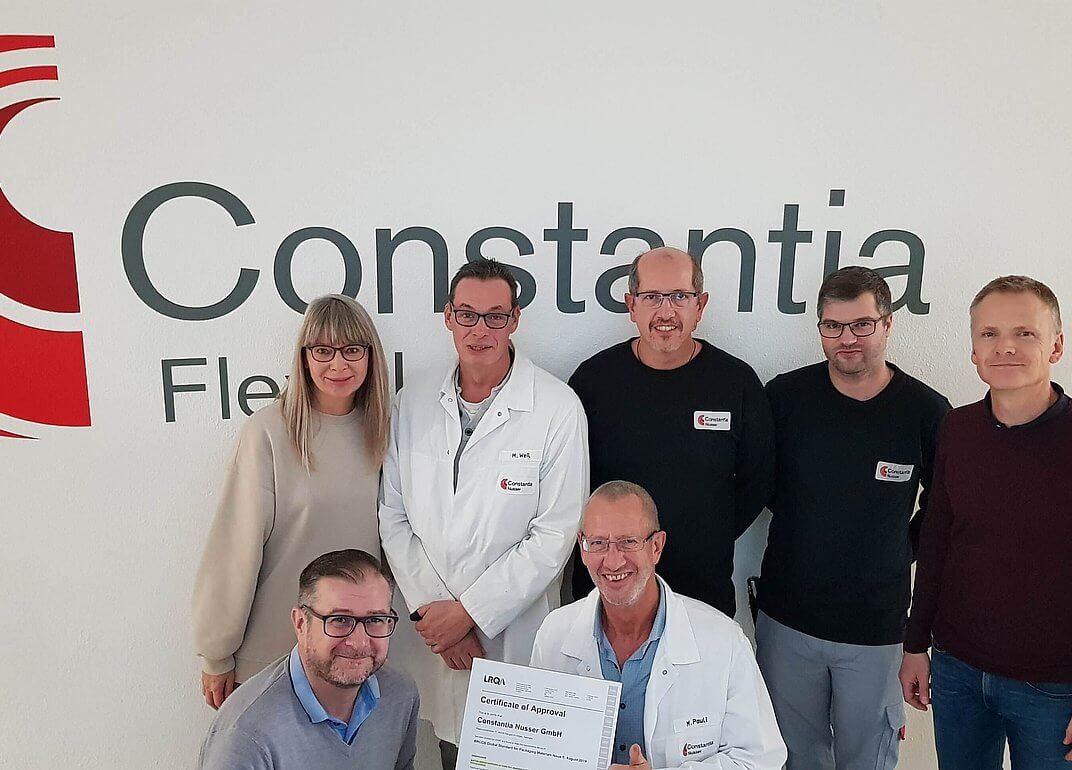 Essential for us and for the supply chain
We work very conscientiously and know that everything a person ingests - food or pharmaceuticals - must be packaged with the highest care for food safety and hygiene. As one of the biggest suppliers in the world, we have an increased burden on all consumers of our products, taking care of their safety and health. It starts with the right raw materials choice until it ends up in refrigerators. To ensure this, we involve an external party to audit our processes. It helps us continuously improve and provides transparency along the supply chain and with our customers. The high standards, which are necessary for this, also meet our quality requirements. Therefore, we are incredibly proud each time we are re-certified. It proves our sustainable work on the hygiene standard.
Back to main navigation