Behind the scenes
Beyond industries: The fascinating overlap of spaceships, cars, and packaging
Exploring the benefits of aluminum
Aluminum is a versatile and important metal that is used in many ways. It's lightweight, strong, and doesn't rust. It is commonly used in the aerospace, automotive, construction, and packaging industries. And, because it's easy to recycle, it's also an environmentally friendly choice. Aluminum stands out as an exceptional material, as the aluminum value chain has embraced circular economy principles for decades. When we recycle aluminum, we can turn it into new products without having to mine for more raw materials. In fact, recycled aluminum can be used to make almost anything that new aluminum can be used for.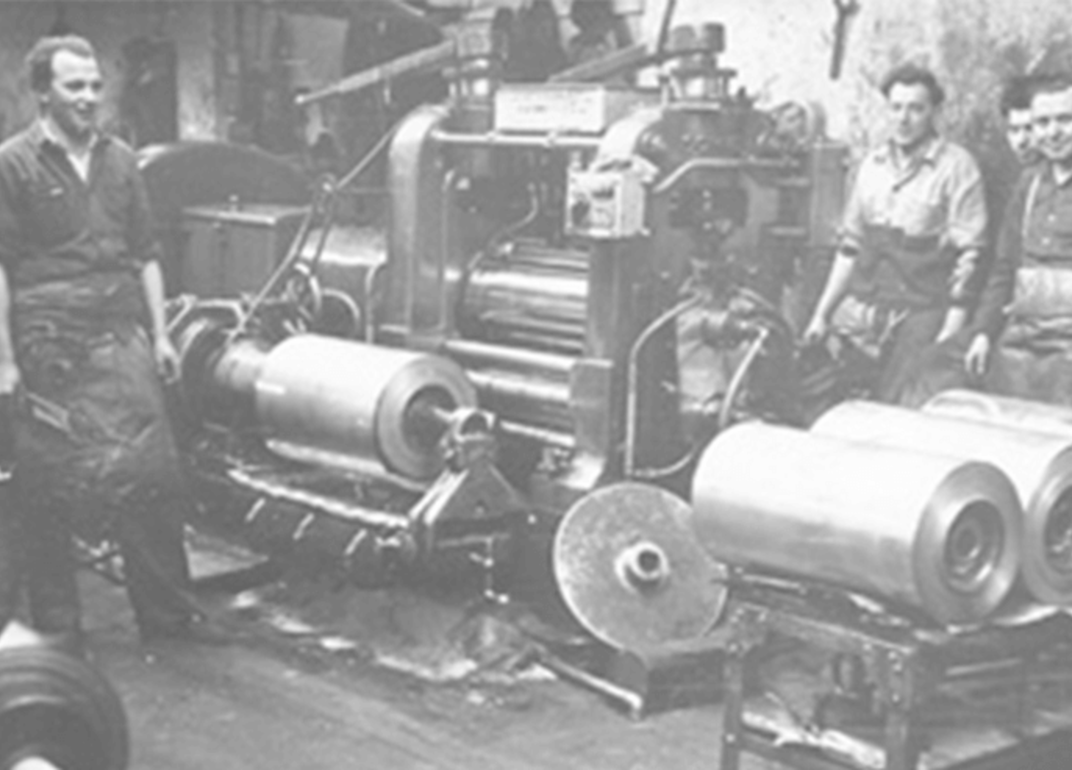 History: The origins and development of aluminum over time
Going back in time, aluminum was once more valuable than gold due to its rarity and difficulty to obtain. One kilo of aluminum was worth $ 1,200, which would be about $ 40,000 today. However, aluminum does not occur in metallic form in nature, only in compounds. And it took quite some time to figure it out. Greek historian Herodotus first mentioned "alum" in the 5th century BCE, and still, its nature was unknown until 1808 Sir Humphry Davy first described and named aluminum. In 1824, the Danish physicist and chemist Hans Christian Ørsted completed the first attempt and demonstrated a sample of the new metal in 1825. Sixty years later, industrial large-scale production was independently established by French engineer Paul Héroult and American engineer Charles Martin Hall. The today-known Hall-Héroult process is the result of converting alumina into metal.
Additionally, the technique of refining bauxite to produce alumina, known as the Bayer process, was discovered by the Austrian chemist Carl Josef Bayer. Today's foundation for modern aluminum production is based on both methods. Despite its high cost, aluminum was utilized for essential innovations such as airplane parts, cars, and spacecrafts.

An in-depth exploration of aluminum through the lens of material science
In light of its remarkable historical significance, delving into material science offers an in-depth insight into its characteristics. Aluminum (also spelled aluminium) is a chemical element with the symbol Al and atomic number 13. It is a silvery-white, soft, nonmagnetic, ductile metal in the boron group. Aluminum is the third most abundant element in the earth's crust and the most abundant metal, making up around 8% of the earth's solid surface by weight. The material is known for its low density (2.72g/cm³), resistance to corrosion, and high strength-to-weight ratio. Its melting point is 660.23°C. Several properties, like its air and light impermeability, its high thermal and electrical conductivity, or the fact it is tasteless, make the light metal special. Aluminum can be alloyed with a broad spectrum of metals, like copper, manganese, silicon, magnesium, or zinc, to tune its strength and other properties.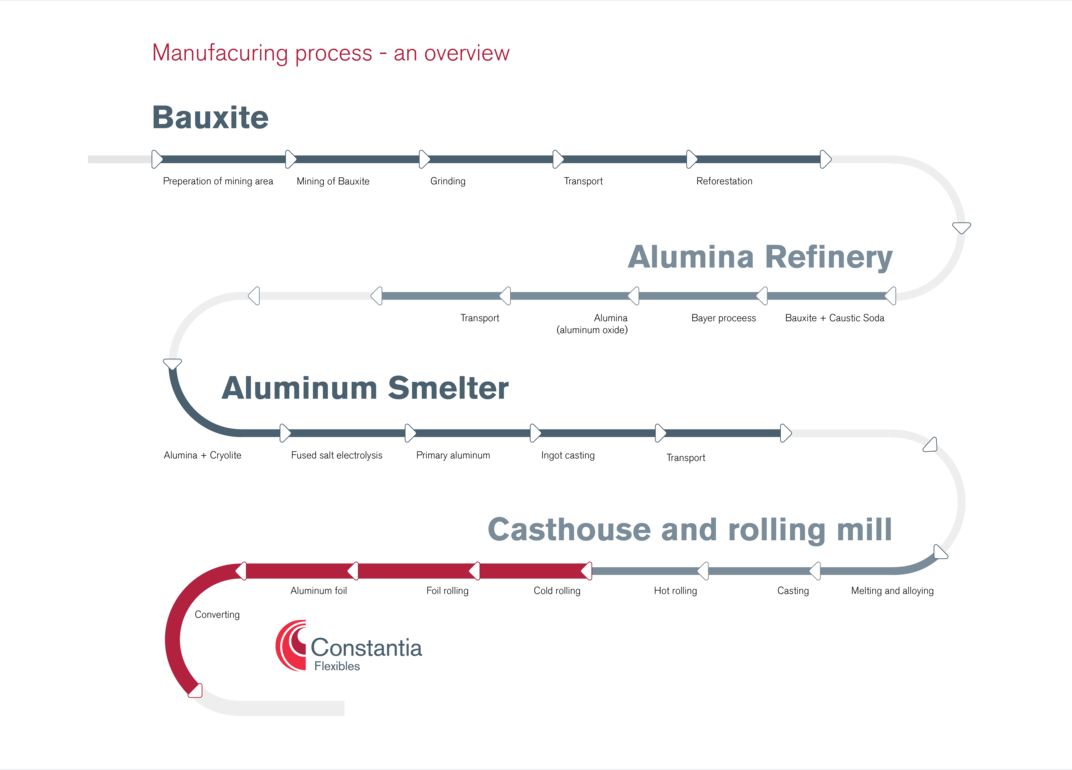 But to go one step back – how is it manufactured?
The sourcing of aluminum is a complex process involving different stages, starting from the mining of bauxite, an ore with the highest concentration of aluminum oxide. Open-pit mines are the most common method for extracting bauxite from the earth. Once extracted, the bauxite is transported to a processing plant to create alumina through the Bayer process. This is a powdery substance that is approximately 99% pure aluminum oxide. The next step covers aluminum smelting via fused salt electrolysis. In the so-called Hall-Héroult process, molten cryolite and alumina are mixed, and DC voltage is applied. This separates the alumina Al2O3 into metallic aluminum and oxygen. The result is a primary aluminum, which is then cast into, i.e., ingots and processed into its final form, such as foil. Finally, the "Casthouse and rolling mill" stage is also where we, as a converter, come into play: with the steps of cold rolling and foil rolling, the aluminum foil for flexible packaging is created.
Pioneering ethical practices: Our commitment as an ASI-certified founding member
The Aluminum Stewardship Initiative (ASI) is a crucial organization that promotes ethical practices in the aluminum industry. As a founding member and ASI-certified organization, we prioritize responsible sourcing. The ASI sets stringent standards for sustainable aluminum production, covering human rights, environmental impact, and ethical business practices. Adhering to the ASI's guidelines ensures transparency and accountability throughout our aluminum supply chain, protecting worker rights and community well-being. It also assures customers that our aluminum products align with their sustainability goals. Supporting the ASI's initiatives contributes to the global shift towards a more sustainable and socially responsible aluminum industry. Our plant, Constantia Teich, in Lower Austria, is the first aluminum foil roller and packaging converter and the first European company to be certified according to ASI's Performance Standard for environmental, social, and governance performance. And in addition, also certified against "Custody of Chain" by ASI. The certification implements responsible sourcing to meet customer and supplier demands to track a global mass flow model.
Recyclability of aluminum: What aspects of aluminum make it a sustainable resource?
We don't always need nature's resources for materials. Aluminum is easily recyclable, which offers many environmental and economic benefits to close the loop. Unlike many other materials, aluminum does not degrade during the recycling process, which means it can be recycled over and over again without losing its quality or properties. In fact, recycling aluminum requires only about 5% of the energy needed to produce primary aluminum out of bauxite, which results in significant energy savings and reduced GHG emissions too.
The recycling process for aluminum involves several steps. First, aluminum products, such as cans or foil, are collected and sorted into different alloy grades at recycling centers. The aluminum is then cleaned, shredded, and melted in order to create new aluminum products. Overall, the recyclability of aluminum is one of its key advantages, making it an important material for sustainable manufacturing and consumption.

Reduce carbon footprint with low-carbon aluminum
Discussing sustainability involves considering material recyclability and also its carbon footprint. Low-carbon aluminum refers to a production process that generates fewer carbon emissions compared to traditional production methods.
Aluminum is typically produced through the Hall-Héroult process, which involves the electrolysis of alumina in an electrolysis cell. This process requires a lot of electricity and, if generated by burning fossil fuels, leads to significant greenhouse gas emissions.
Various techniques are developed and implemented to reduce aluminum production's carbon footprint. One approach involves using renewable energy sources, such as hydro energy, to power the electrolysis process. Another approach is to use advanced technologies that consume less energy and generate fewer emissions, such as the inert anode technology.
Traditionally, carbon anodes are used to conduct electricity during fused salt electrolysis. These anodes combust throughout the process, leading to the emission of CO2. Inert anodes are made of materials that do not react during the electrolysis, such as ceramic or boron-doped diamonds. This eliminates the carbon emissions associated with the anodes' consumption during electrolysis.
Nevertheless, the goal of low-carbon aluminum production is to minimize the environmental impact of aluminum production while still meeting the increasing demand for this versatile and widely-used material.
So, why is aluminum the perfect packaging material?
Aluminum is a popular choice for flexible packaging in both the consumer and pharmaceutical industries due to its versatility and numerous advantages.
Barrier properties
Aluminum is a highly effective barrier against light, moisture, oxygen, and other gases, which makes it an ideal material for packaging goods that require protection from the environment. This property is especially important in the pharmaceutical industry, where medication needs to be protected from moisture and oxygen.
Lightweight and durable
Aluminum is lightweight yet highly durable, making it an excellent option for flexible packaging. It can be easily molded into various shapes and sizes and does not break or crack easily, making it ideal for transportation and storage.
Temperature tolerance
Aluminum can withstand a wide range of temperatures without deforming or melting, making it an excellent option for packaging goods that must be stored or transported at extreme temperatures.
Aesthetic appeal
Aluminum packaging has a sleek, modern look that appeals to consumers, making it an excellent choice for packaging products such as cosmetics, food, and beverages.
Best practices and applications of aluminum
Food
Aluminum is often used to pack food products such as snacks, dairy products, coffee, and human and pet food because it provides an effective barrier against moisture, light, and oxygen. This helps maintain the freshness and flavor of the food and extends its shelf life. Examples are our AluCapsulesCoffee, EcoAluLam, EcoAluTainer, or EcoPeelCover.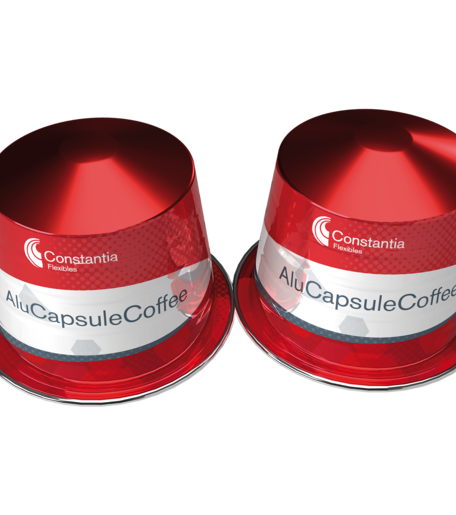 Beverages
Aluminum is a popular material for beverage packaging, particularly for cans. Aluminum cans are lightweight, durable, and recyclable, making them an environmentally friendly option. They also provide an effective barrier against light and oxygen, which helps maintain the beverage's quality. An example is BevLid.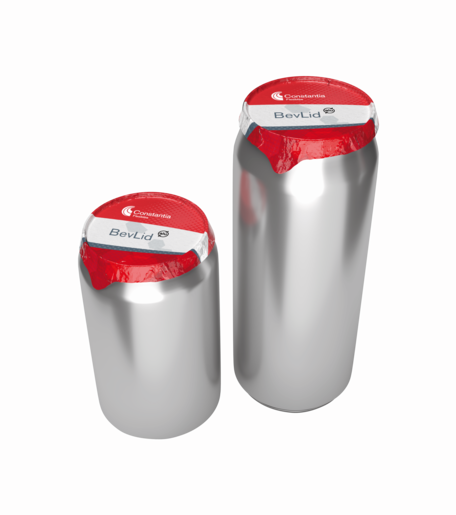 Industrial products
Aluminum is used to pack a wide range of industrial products such as in construction, air conditioning, trains & aircraft, the cable industry, and the automotive sector. This is because it is resistant to corrosion and provides a high level of protection against moisture and oxygen, which helps preserve the product's quality. Check out our technical foils.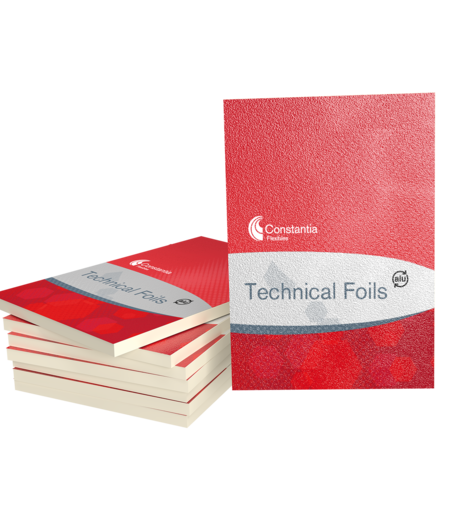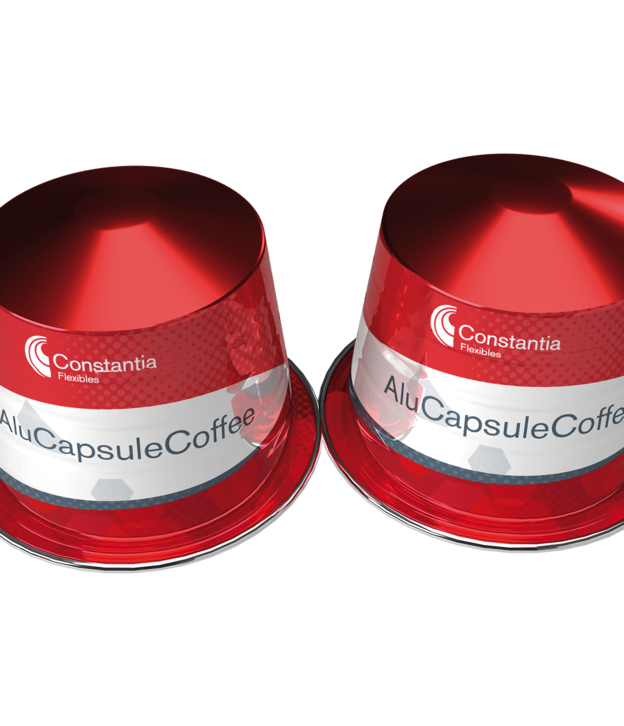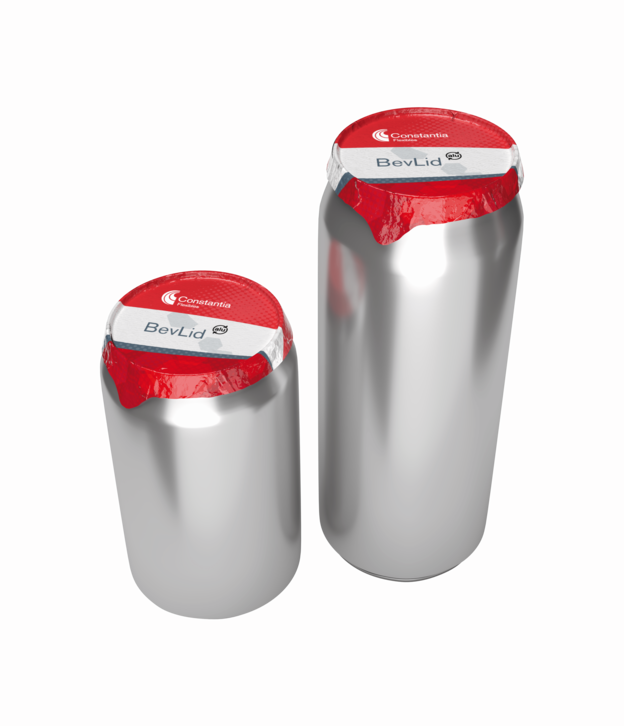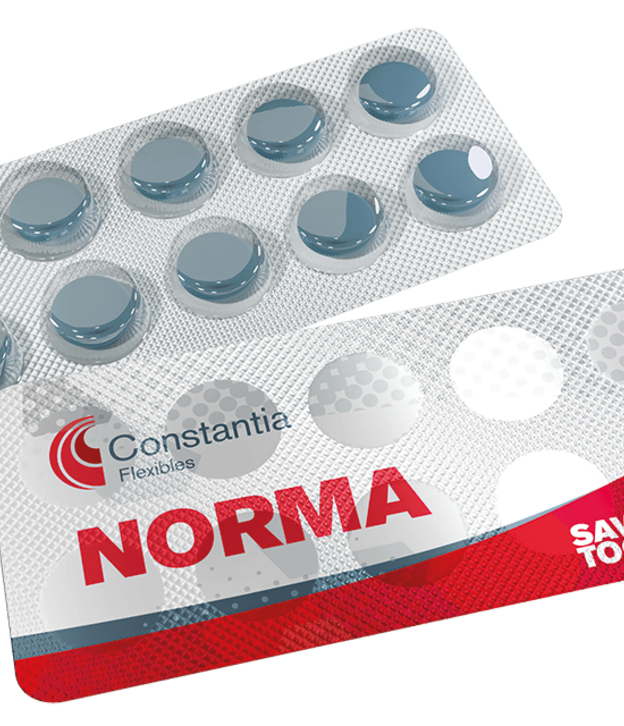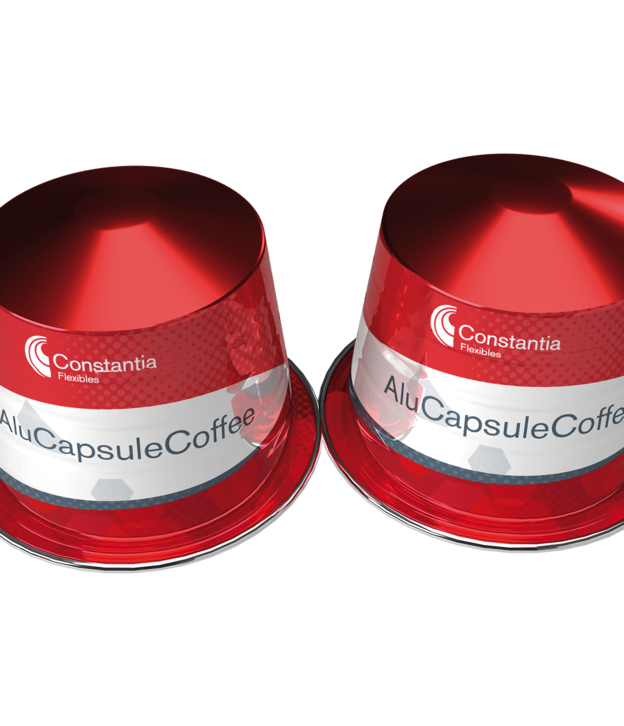 Overall, aluminum's versatility and advantageous properties make it an excellent option for flexible packaging in both the consumer and pharmaceutical industries. Its ability to protect, preserve, and transport products safely and efficiently has made it a popular choice for businesses worldwide.
Back to main navigation